---
This was our work



---
Our primary concern: Crankshaft repair, guaranteed accuracy. For optimal and vibration-free cyclic testing.
---
Cylinder with pistons and bearing, RG 500 and RGV/RS 250.
Our RG 500 pistons are sorted into three shapes, according to tolerance size. The original chamber dimension can mostly therefore be retained. We will only mill the bore if it's absolutely necessary. (Please, send the cylinder for measurement)
The special RG 500 approach washers for the piston pin is precision grind. In comparison to the genuine washers, our GHN washerssurvive higher RPM, e.g. with a Jolly Moto exhaust system to be used, without any problems reported.


---
RG 500 update for original transmissions:
50 % higher stiffness.
This gear wheel combination was only supplied on produktion after '93, so never in factory produced Gammas.
If you have also only done moderate performance improvement to your engine, this is absolutely recommended!



---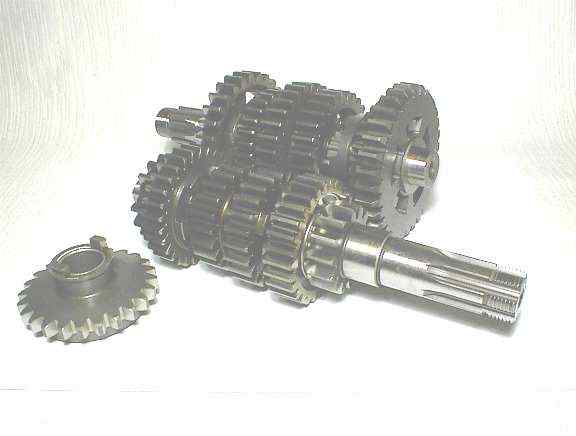 "GHN Gearbox" for RG 500, with adapted ratio.

OVER 200 times well-tried
longer 1st gear, other gears closed
ratio 1st gear 2,28 ; 2nd gear 1,75 ; 3rd gear 1,42 ; 4th gear 1,21 ; 5th gear 1,07 ; 6th gear 0,96
ratio Kickstarter : clutch = 1:1,71 (original RG 500 = 1:1,91)
all free whell sprockets running on neadle bearing
so lower friction and lower loss of power
5 dogs gears (all cut dogs)
the narrow dogs allows high speed shifting
construction for a maximum of power
calculated for term power of 120 Kw to 80Tkm
all teeth are special finished
lower oil level possible, so clutch better separate
GHN gearbox includes a kickstarter sprocket
price, incl. VAT : not available



Our GHN gearbox was further improved, the reliability continues to increase. Available immediately, we offer 1st update for all GHN gearbox supplied before 2000,
ans as well 2nd update for all GHN gearbox supplied before 2011




---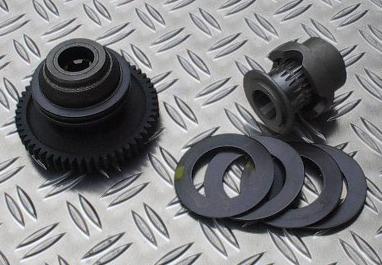 left: RG 500 pilot gear damper available, original 21760-21A00, NOS
right: GHN repair set for damaged damper RG 500 Gamma
(attention : not for RG 400 pilot gear)
For repair you have to send your pilot gear to GHN. price : € 489,-
---